In 2020, COVID-19 will bring us huge disasters and losses. How to better protect the environment has become an important topic of people's attention.
As one of the excellent suppliers of false eyelashes, we have been exploring how to find an alternative environmentally friendly product that can reduce pollution and carbon emissions.
In general, there are two types of false lashes on market: Synthetic lashes made from PBT, Mink lashes made from mink, or sable fur.
By nature, neither of these lash extension options is eco-friendly. Firstly, both options are almost always packaged in single-use plastic trays. But there are other, more devastating environmental effects too.
In order to achieve the goal of environmental friendliness, since 2020, we have been developing and researching biodegradable eyelashes and packaging to replace them.
Fortunately, at the end of 2020, we developed biodegradable eyelashes tray to replace the existing plastic eyelashes tray.
New biodegradable lashes trays are made of sugarcane pulp. Sugarcane or bagasse products are rapidly emerging as an excellent eco-friendly option for a wide variety of foodservice locations. Bagasse mulch is a byproduct of sugarcane plant stalks after harvest. The mulch is formed after the juice has been removed from the sugarcane, and is a product that would traditionally be thrown out and regarded as waste. This mulch is then heat pressed into the desired shape of the product using a high-heat, high-pressure process to make sugarcane products and lashes tray.
Able to withstand temperatures up to 212 degrees Fahrenheit, these products are also cut-resistant to provide maximum durability and are more durable than plastic or polystyrene products.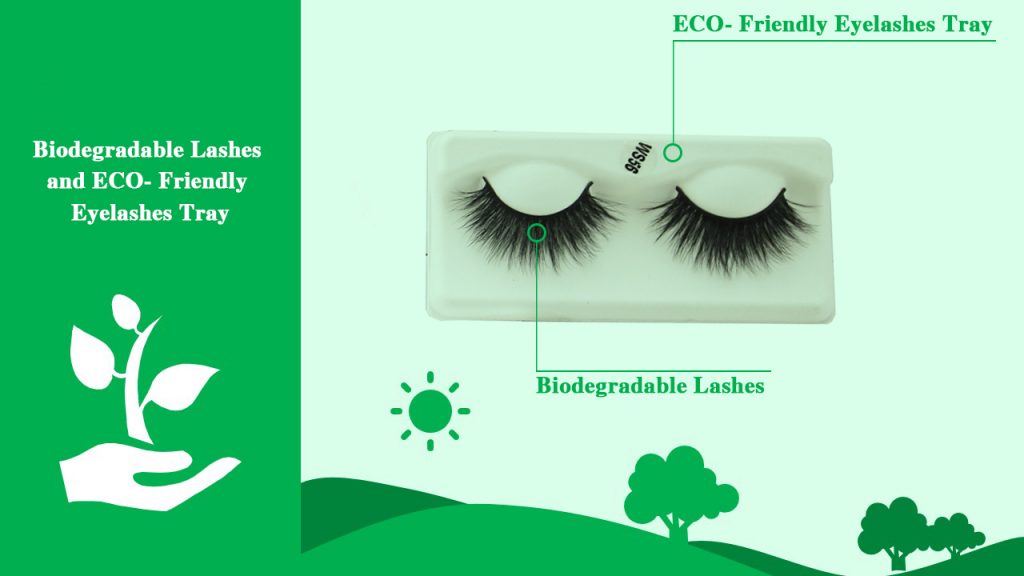 At the same time, research on degradable eyelashes has also made progress this year. After continuous exploration and research by us, with working with chemists, we extract fiber from plants. And it was made into the material of lashes. After more than 10 processes, it was made into false eyelashes.
It will continue to adhere to the ecological concept of sustainable development, such as plant fiber renewable, direct contact with the skin without harm, and natural degradation. Its appearance does not look different from other eyelashes, but its band is thinner and softer. is easier to decompose than PBT eyelashes in the environment. It couldn't hurt the environment when decomposing. ECO- Friendly Product!!!
The emergence of biodegradable eyelashes and biodegradable eyelash holders will become a revolution in the beauty industry. It will also provide better choices for beauty personnel, especially beauty lovers who like vegan and cruelty-free beauty products.